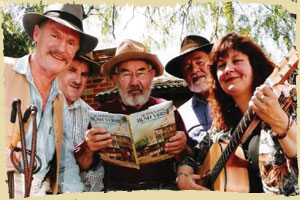 Gatherings of the Bendigo Goldfields Bush Poets for informal concerts are held on the third Sunday afternoon of even numbered months, with the exception of December, when it is the second Sunday.
An open microphone concert for performers or readers of our genres is run from 1.00pm to 4.00 pm.
The venue for all gatherings is the Bendigo Club, 22 Park St, Strathdale. Just a few minutes from the centre of Bendigo.
Bar facilities are available, quality meals including Sunday lunch specials available from 12 noon to 2pm. Coffee and tea may also be purchased.
Bush Poets and performers of Traditional Australian Bush music and song are welcome to participate and join the group. No-one is expected to be a "star". People are encouraged to use our gatherings as an opportunity to gain experience and confidence in their performance and stagecraft skills. Readers of rhyming poetry are welcome. Poems may be read.
Alternately, you may just be a lover of Bush Poetry or Bush Music who wishes to participate as a member of the audience. We often have sing-a-longs of some popular traditional songs for audience to engage in.
We look forward to seeing you.