Like all small groups, we need funds to keep running, but more importantly to run our annual event.
Our annual event is a Junior Bush Poetry competition called the Rusty Nail and you can read more about it here.
Another fund raising product is this magnificent book, "Rabbit On A Shovel".
These are bush cooking recipes at the top end of the scale!
If you haven't taken a rabbit, cleaned and gutted it and then cooked it on a shovel over a bed of hot coals, then you haven't lived.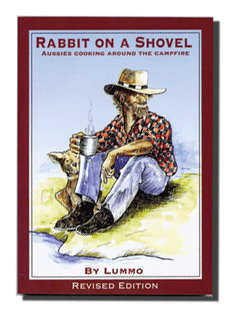 "Rabbit on a Shovel" is value packed with over 100 bush recipes in over 160 pages.
These recipes include such treasures as:-

Redyellowbonywhite
Damper & Johnny Cake
Roast Underground Mutton
Desperado S'getti
Bloodied Dogs
Fish in Hubcap
Roo Tender Loin


The perfect gift for any occaision!

So how can you get a copy of this gem you ask?
It's easy, simply click on the link provided below, follow all the prompts,
and then its over to us to ship it out to you!